Paderewski Monument Dedication, Saturday July 16th, 2011 at 2:00pm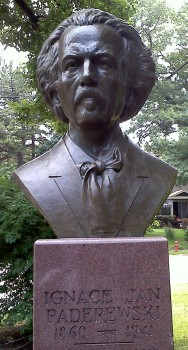 Your invited to the Paderewski monument dedication in the Polish Cultural Garden, located at the corner of St. Clair and East Blvd.  The gardens address is 820 East Blvd., Cleveland , Ohio, 44108.
The dedication will take place at 2:00pm, followed by a piano recital.  Street Parking is located North and South of the Garden along East Blvd.
Plan on spending the day, pack a picnic basket, bring a blanket and visit the Rockefeller Park Greenhouse.  The greenhouse is open from 10am-4pm. and located a short distance north of the Polish Garden.  www.rockefellergreenhouse.org
If you would like to make a donation for the Polish Cultural Garden, please contact Mr. Ben Stefanski at 216-431-0913