Polish Constitution Day May 3rd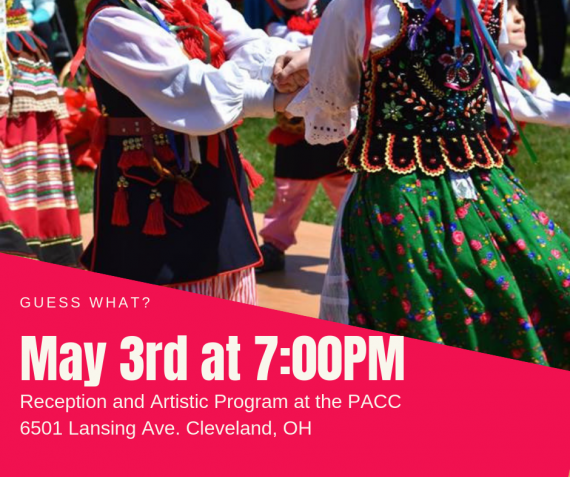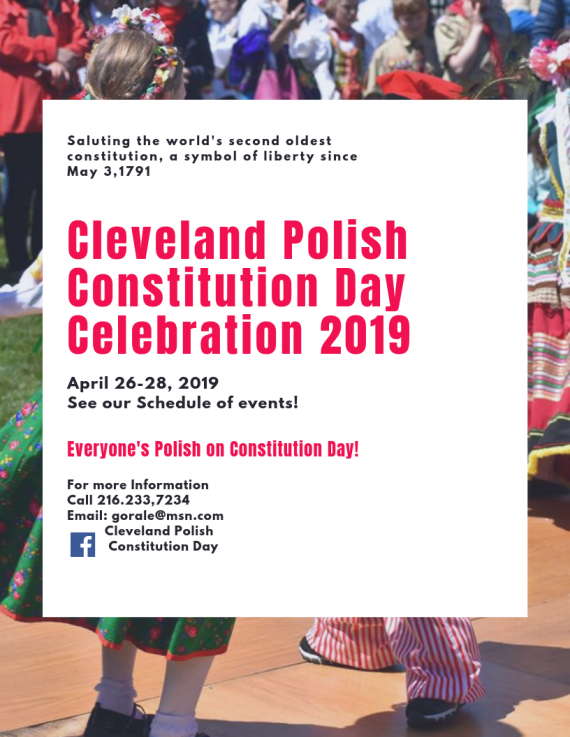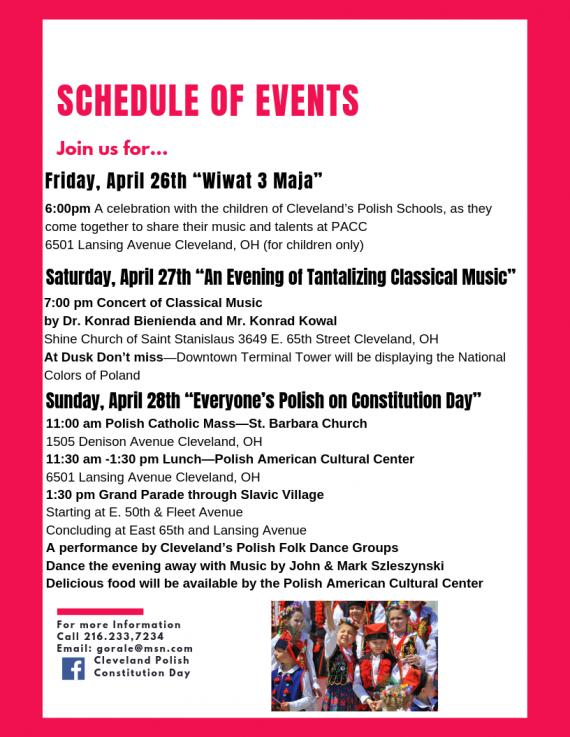 Polish American Cultural Center invites you to their Artistic Program and Reception which will take place at 7:00 PM on May 3rd , 2019
6501 Lansing Ave. Cleveland, OH
Join us for this year's parade which will be held on Sunday, April 28, 2019, Fleet Avenue in Warszawa Historic District of Cleveland (known today as Slavic Village). By participating in one of the oldest Polish Parade outside of Poland you will have the opportunity to celebrate with Cleveland's Polish Community one of its finest traditions.

Schedule of events
Friday, April 26th at 6:00 pm
"Wiwat 3 Maja" a program for children of the Cleveland Polish schools at the Polish American Cultural Center
6501 Lansing Ave. Cleveland, OH

Saturday, April 27th at 7:00 pm
A tantalizing concert of classical music by Dr. Konrad Binienda and Mr. Konrad Kowal at the Shrine Church of Saint Stanislaus, Slavic Village.
At Dusk – See the Terminal Tower displaying the national colors of Poland

Sunday, April 28th at 11:00 am
-Polish Catholic mass at St. Barbara Church
1505 Denison Avenue Cleveland, OH
-11:30 am- 1:00pm Lunch at the Polish American Cultural Center
-Grand Parade at 1:30pm in Slavic Village concluding at the Polish American Cultural Center with a cultural program by the Cleveland Polish Schools and Dance groups.
May 3, 2019