Tuesday, February 1st, 2011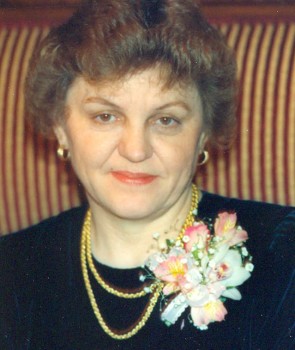 Marianne Kraszewski (1941 – 2011)
Daj nam wiarę, że to ma sens.
Że nie trzeba żałować przyjaciół.
Że gdziekolwiek są – dobrze im jest,
Bo są z nami choć w innej postaci.
I przekonaj, że tak ma być,
Że po głosach tych wciąż drży powietrze.
Że odeszli po to by żyć,
I tym razem będą żyć wiecznie.
(Zbigniew Preisner)
Nie pamiętam dnia, kiedy pierwszy raz spotkałam Panią Marysię Kraszewską. Wiem napewno, że było to w Centrum, a właściwie w piwnicznej kuchni Centrum. Jednego jestem pewna, że od pierwszego spotkania ujęła mnie swoim naturalnym ciepłym uśmiechem i poczuciem humoru. Proste żarciki, niespodziewane i celne riposty błyskotliwy umysł i emanujące z niej dobro  sprawiało, że rozjaśniała swoją obecnością każde miejsce – nieważne, czy to była kuchnia w Centrum, pokój szpitalny czy przydomowy ogród.
Kilka lat temu, któregoś dnia w grudniu, zadzwoniła zapytać jak zamierzamy z moim mężem (jeszcze wtedy narzeczonym) spędzić święta. Właściwie nie czekała na odpowiedź, tylko zaprosiła nas na obiad, bo nie mogła nawet pomyśleć aby ktoś mógł pozostac w domu sam w taki dzień. I tak została Pani Marysia naszą amerykańską mamą.
Była kobietą niezwykłą. Dawała z siebie wszystko i zawsze dawała siebie innym. Swoją rodzinę: męża i dzieci zawsze stawiała na pierwszym miejscu. Zawsze! Oddała siebie innym bez reszty pracując jako terapeuta respiracyjny by pomagać ludziom przede wszystkim, a także zeby zarobic na życie. Zawsze interesowała się potrzebami i kłopotami swoich przyjaciół… i zawsze znajdowała sposób, żeby nam pomóc. Przepracowała społecznie niezliczone godziny w Centrum dla dobra Polonii.  Nieustanna patriotka nigdy nie zapominała o swoich polskich korzeniach. Zostawiała tu cząstkę siebie. Zmieniła to miejsce na zawsze.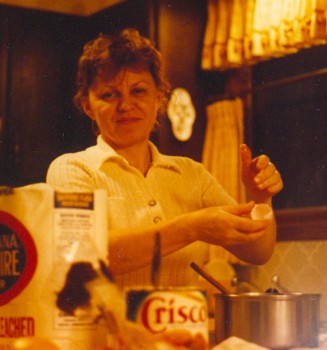 Pani Marysia uwielbiała kwiaty, swój przydomowy ogród a przede wszystkim uwielbiała gotować. Ciągle eksperymentowała. Łączyłą tradycyjne przepisy z wiedzą o zdrowym żywieniu. Niejeden raz ofiarą jej doświadczeń kulinarnych i surowym recenzentem była najbliższa rodzina – mąż Norbert i dzieci: Monika, Jacek i Chris. Jeśli im smakowało – wiadomo, że w Centrum zasmakuje również. Jeśli zaś kategorycznie odradzili karmienie innych tym, co dla nich przygotowała, przepis zostawał natychmiast zapomniany. Nic nie dorówna pierogom, barszczowi na zakwasie buraczanym i tortom Pani Marysi.
Życie Pani Marysi nie było lekkie. Jako młoda dziewczyna, tuż po szkole średniej emigrowała do Ameryki. Nauka języka, szukanie pracy, wychowanie dzieci i prowadzenie domu w nowym kraju z dala od rodziny były nie lada zadaniem. A mimo to odnalazła się tutaj świetnie jako fachowiec w dziedzinie terapii respiracyjnej, wzorowa matka, kochająca żona i oddana przyjaciółka. Szła przez życie przebojem, z uśmiechem na twarzy i optymizmem w zanadrzu. Siły i eneregii zawsze dodawały jej sukcesy najbliższych, a zwłaszcza dzieci.
Kiedy choroba zaczęła niszczyć jej ciało, jej umysł do końca pozotał błyskotliwy i nad wyraz sprawny. Nie poddawała się chorobie i nawet wtedy, kiedy była całkowicie zależna od innych. Nie straciła także swego świetnego poczucia humoru. Pamiętam, jak w listopadzie pojechałam ją odwiedzić z moją mamą. Obie Marysie od razu się polubiły. Zapytała wtedy ile moja mama ma lat, a gdy dowiedziała się, że jest od niej o rok starsza, zaraz zawyrokowała: "więc musisz mnie słuchać!" Do końca też wierzyła, że aktywność fizyczna, ćwiczenia i masaże pomogą jej zwalczyć chorobę. Do końca walczyła. Bardziej duchowo i psychicznie niż fizycznie. Niestety, przedwcześnie przegrała tę ostatnią walkę.
Pani Marysia odeszła spokojnie do wieczności 16 stycznia 2011 w otoczeniu swoich najbliższych. Pozostawiła w naszych sercach przede wszystkim wiele wspaniałych wspomnień, ale także pustkę, której nikt już nie wypełni.  Była dla nas darem. Wielu może wydawać się, że dobroć jest czymś bardzo prostym, bo wystarczy być zawsze do dyspozycji drugich. Marysia Kraszewska, kochająca żona i matka, oddana wolontariuszka, piękna kobieta emanująca ogromną energią, a dla wielu z nas bliska sercu Przyjaciółka, była po prostu DOBROCIĄ. Miała dla nas zawsze czas. Będzie nam Jej brakować. Zawsze.