Terminal Tower lit in Poland's national colors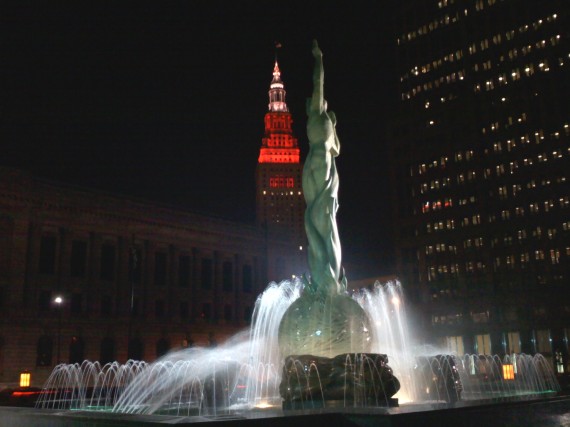 On the evening of July 15, 2011, the Terminal Tower was lit in the national colors of Poland. This was done to honor Mr. Ignacy Jan Paderewski and recognize his monument dedication taking place the following day in the Polish Cultural Garden.  Great thanks go to the Terminal Tower Management for their participation and gesture of good will.
Beginning in 1892, Mr. Paderewski toured Cleveland many times and performed to sold out audiences.  His private railroad car was stationed in the Cleveland Union Terminal, which we now know as the Tower City Center.
Regarding the above picture:
In the foreground is the Fountain of Eternal Life, also known as the War Memorial Fountain and Peace Arising from the Flames of War, it is a statue and fountain.  The
sculpture, which serves as the City of Cleveland's major memorial to its citizens that served in World War II, is situated on Memorial Plaza, Cleveland Mall A.
An interesting historical note that took place 101 years ago:
Mr. Paderewski patriotism led to his decision to finance the construction of the Grunwald Monument in Krakow, which he donated to the Polish nation.
The monument had been a goal of his since the age of ten. The monument was unveiled July 15, 1910.  During the ceremony Mr. Paderewski said the famous words: "Stand by your land, religion, language and the Polish spirit.  Stand firm until the revival."