Polish Minister CLE Visit and Trail of Hope Exhibit
Polish Minister Anna Maria Anders Cleveland Visit
And the Trail of Hope Exhibit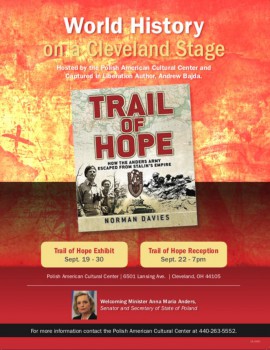 The Republic of Poland's Secretary of State will visit Cleveland, Ohio to commemorate her father through the traveling Trail of Hope Exhibit and honor a local survivor who served under her father's fabled Army.  Minister Anna Maria Anders is the daughter of Polish WWII General Wladyslaw Anders, whose Army's epic journey across three continents is chronicled in Norman Davies best-selling book, The Trail of Hope. The Polish Government has created a mobile exhibit featuring 15 stations, and this exhibit will be on display at the Polish American Cultural Center in Cleveland's Slavic Village from September 19 – 30.  A reception will be held at the Cultural Center on Saturday evening, September 22.
Cleveland is just the 2nd American city to host the Trail of Hope Exhibit, which was made possible from an invitation that a Cleveland author received to the Polish Embassy in May to commemorate Poland's Constitution Day. Cuyahoga Community College Professor Andrew Bajda received an invitation after Poland's Ambassador to the USA, Piotr Wilczek, learned of his book, Captured in Liberation. Bajda's book colorfully describes his father's quest to join Anders Army as a teen living in Poland during WWII, a journey which took him across the vast European continent, including capture and escape from a POW camp.  During the reception, Bajda and his father Marian were invited for a private meeting with the Ambassador. Upon learning more of the story and its impact on the local Polish community, Wilczek phoned Minister Anders to connect her with Bajda and plant the seed for the Trail of Hope Exhibit's Cleveland appearance.
Cleveland Itinerary for Minister Anders
Saturday, September 22:
2:00 PM – Event with Congresswoman Marcy Kaptur
7:00 PM –  An evening reception (125 seating) at the Polish American Cultural Center in Cleveland's Slavic Village.  The reception will honor the Anders Army and local surviving members of the Second Corps.  Congresswoman Kaptur will join us, but this will be promoted as a celebration, not a political event. Adjoining the Reception Hall is a local Polish museum that will display the Trail of Hope exhibit from September 19 – September 30.
Sunday, September 23:
10 AM – Polish Mass at the Shrine Church of St. Stanislaus in Cleveland's Slavic Village. I believe this to be Cleveland's most beautiful church and was visited by Pope John Paul II when he came to Cleveland.
Noon –  Lunch at the Polish American Cultural Center in Cleveland's Slavic Village.